The ChainaMizugi
A page about the modern asian dress.
On this page I will tell you a bit more about one of my favorit fashion things, the ChainaMizugi.
What is the ChainaMizugi ?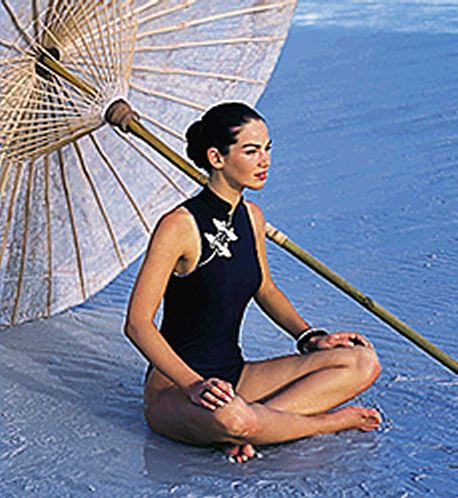 TheChinaMizugi is in general a Body or Leotard worn for gymnastics,swimming or as underwear. The special about it is that it look like a Qipao or Chongsam at the top and at bottom like short pants. On the right you can see a sample of a Chinamizugi bathingsuit.
A short history of the ChainaMizugi:
The historical periode:

The beginning

Early versions and today, this style is still preferred.
Modern Day:
In our modern time we look more and more for that thing.

How to cut and sew an ChainaMizugi:
To make your own.
The minimum measurements needed
( keep the tape loose) are like following:
neck circumference
shoulder width
arm hole size
length of arm
wrist circumference
chest circumference
length from low of neck to largest part of chest
length from back of neck to waist
waist circumference
hip circ.
length from waist to desired hem line
All measurements must be in centimeters, not inches.
Good luck!
---
© 2000-2002 by MFFM-Internetservice. All Rights reserved.